Eco-retrofitted Victorian house (Knavesmire area)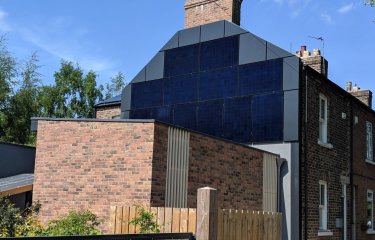 Energy-saving improvements
'Big' insulation works

Glazing

High spec heating

Renewables: electricity
Location
Hob Moor Terrace
York
YO24 1EY
Opening times
17 Sep 2020
Thur 17th September 7pm
Book ahead
This event has now finished.
Book ahead online event
York architect Phil Bixby has eco-refurbished his Victorian end-terrace house, retrofitting the existing structure to a high standard of insulation (including fitting triple-glazed sash-lookalike windows) and creating two new single-storey extensions each to Passivhaus-standard levels of performance and with green roofs. Attention to airtightness means whole-house mechanical ventilation with heat recovery can work efficiently, and the resulting energy requirements are sufficiently low to allow simple electric heating. A substantial photovoltaic array (including novel use of the south-facing gable wall) and battery storage mean the overall energy requirements can be efficiently provided for by a mix of solar and off-peak electricity. The house has now been occupied for nearly two years and hence there is useful feedback on how all the systems operate.
Book via: https://www.eventbrite.co.uk/e/york-open-eco-homes-online-tickets-118130017061
Location
Hob Moor Terrace
York
YO24 1EY
Opening times
This event has now finished.
Other homes nearby